Sound absorbance is very rapidly becoming a high importance in interiors. From residential spaces to public areas, people have increasingly noticed how our sound affects our ability to feel comfort in a room. But far away from those egg-shaped foam panels from the music studios of the 90s, there are beautiful great sound-absorbing solutions these days that not only help out with the noise in your space but look truly like a piece of art.
Here are 4 sound solutions that will not only make your space less noisy but will look truly awesome in your interior.
Undecided or want to know more? contact us
Kvadrat Clouds by Erwan and Ronan Bourollec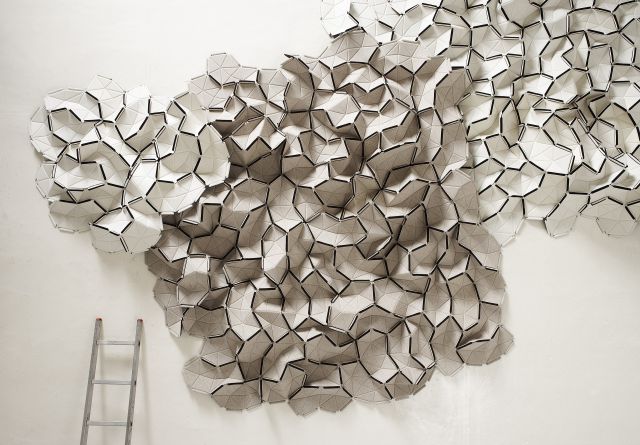 In collaboration with Kvadrat, internationally acclaimed designers Ronan and Erwan Bouroullec created Clouds, an innovative, interlocking fabric tile concept for the home. Clouds can be used as an installation and be hung from a wall or ceiling.
Clouds evolves as you add elements to it, producing a unique three-dimensional effect. Inspired by the inviting irregularity of the surface, you construct your own piece and make your vision reality. Self-expression lies at the heart of the appeal of Clouds.

The tiles are made of one element and are attached by special rubber bands. Creating your own piece is quick and easy, whether you want a simple design or a complex decorative screen or wall. You can easily arrange and re-arrange the tiles to reflect your individual style and bring new ideas into your home, time and time again.
You can read even more here
Kvadrat soft cells
Soft Cells bring acoustic comfort, aesthetic excellence and tactile surfaces into a space. In doing so, they provide a solution to the acoustic challenges of modern architecture and promote productivity.
Soft Cells are acoustic panels that deliver up to Class A sound absorption. They can be mounted both on walls and ceilings. Available in a wide choice of Kvadrat textiles and fully customisable, they can be seamlessly integrated into any design scheme. Soft Cells frames are made with a minimum of 50% recycled aluminium. They include a patented tensioning mechanism, which ensures they are unaffected by temperature or humidity for many years.
Kvadrat Soft Cells is a simple, modular system of acoustic panels that help improve sound quality in offices, meeting rooms or any other interior space. All have been tested for sound absorption according to EN ISO 354. All specs available at soft-cells.com
BAUX - Acoustic Panels & tiles
BAUX Acoustic Panels is an environment-friendly, recyclable material made from wood wool, cement and water. The natural components together provide many functional characteristics as reducing noise and adding depth to a space.
BAUX Acoustic Panels. Available in 7 patterns; Quilted, Check, Stripes, Lines, Diagonal, Arch and Curve. All designed to be combined into infinity.
BAUX is a joint ventures between entrepreneurs Johan Ronnestam and Fredrik Franzon and the founding partners of design studio Form us with love; Jonas Pettersson, John Löfgren and Petrus Palmér. Visit baux.se to know more
Zilenzio - A quieter work environment
Zilenzio develops and delivers high-quality sound absorption using well considered and designed solutions. Their products are the result of their long experience in sound design, analysis of offices, and tests carried out according to international standards.
They have created healthy acoustic surroundings in many workplaces, and their employees have high expertise in sound absorption and the acoustic properties of different materials.
Visit zilenzio.se for more info.
The Fazett wall-mounted system consists of a single element, a diamond that can be combined in many ways. By using fabrics of different colour it is possible to create patterns to cover any small or large surface. The diamonds create an attractive pattern and at the same time provide effective sound absorption.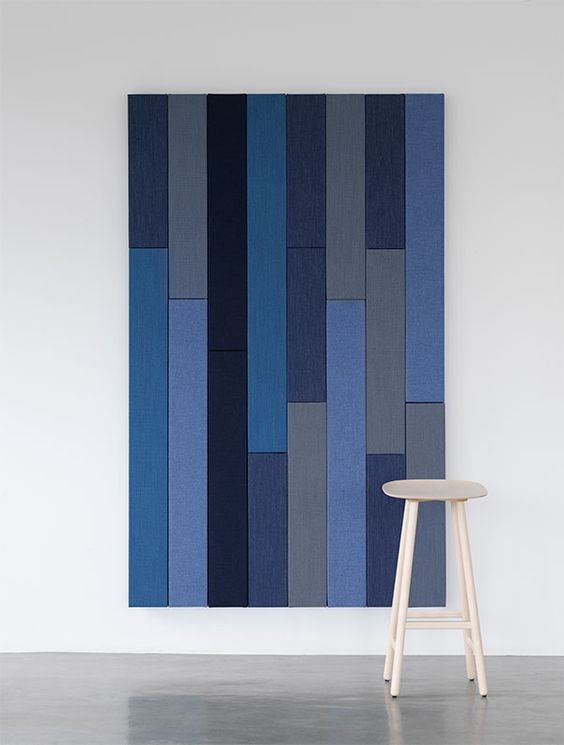 Timber can be used as classic wall panelling, decorative half-wall panelling, to imitate walls of offcuts, or in elegant herring-bone patterns as graphic wall pieces.
Dezign
The Dezign ceiling-mounted absorber can swing between vertical and horizontal mounting, and is available in several sizes.
So, no more excuse to inhabit those sound bouncing ear numbing spaces. Choose your favourite and get in touch with us to bring silence into your space.